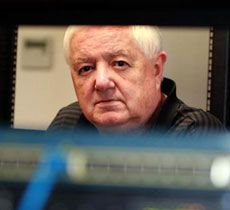 John Linton

Many considered John Linton to be one of the telecommunication industry's most colourful mavericks. Never known for holding back, John was one of the few people in Australia to honestly speak the truth about the industry's business and practice.
An avid blogger, John would often vigorously speak out against Federal Government policies such as the National Broadband Network and Internet Filtering initiatives. He also famously sued Telstra and won forcing the telco to publicly apologise.
Ever the consumer advocate, and always on the side of the underdog, John Linton started Exetel with the objective of creating a very different type of company - one that looked after the interests of customers by being as transparent as possible. In the words of his son James, "We faced many challenges establishing Exetel, some that would have undoubtedly overwhelmed anyone with less indomitable determination than John. He was the toughest person I think I will ever meet. The most honest person I have ever met, and one of the kindest. But above all he was unique, with the clarity of vision and sharpness of mind that was simply awesome."
John Linton founded Exetel as a technology consulting company in the early 1990's but quickly identified the opportunity for a genuine low cost internet service provider in the market. Since that time it has grown dramatically to become the largest independent ISP in Australia.
In recent years John also established offshore call centres to support the company's growth and ensure those centres provide first class levels of customer service. Beyond his passion for telecommunications he was also a committed to the preservation of endangered Australian flora and fauna and funded many projects for Gouldian Finch, Black Cockatoo, Western Ground Parrot, Long-Nosed Potaroo, Red-Tailed Phascogale, Regent Honeyeater and Spiny Daisy conservation. He also funded the Sri Lankan Elephant/Human Conflict Reduction Programme.
Sadly John passed away suddenly in February 2012. John is survived by his wife Annette and three children. Annette and sons James and Andrew - are all actively involved in managing the Exetel business on a daily basis - ensuring John's legacy, vision and sense of adventure are carried forward into the future.