12-month ADSL2+ bundle plan
FREE Activation + FREE WiFi Modem
Unlimited Data
Included with your plan
Bonus ADSL2+ Data

|

2 Months FREE
Home Phone Line

|

Included
Pay As You Go

|

Call Rates
nbn™ Ready WiFi Modem

|

FREE + shipping
Exetel nbn™ upgrade

|

FREE

WiFi Modem
(valued at $140)
The Exetel ZTE modem provides full remote diagnostics and support for your ADSL2+ service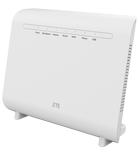 ZTE ZXHN H268A
nbn™ approved. High speed AC 1600 Mbps dual channel WiFi.
Preconfigured for data & voice.
Use with your exisiting telephone.

Bonus 2 MONTHS FREE
Exetel Mobile
Get the 1st 2 months plan fee FREE on Saver 4G mobile plan when your bundle on a 12-month contract
2.5 GB
$14.99/mth
2.5GB data allowance
Unlimited national calls & text
Unlimited overseas texts
Free SIM shipping & free activation
12-month contract
Excess data $10/GB
Port your current number
12-mth contract
Min charge. $659.88
12-mth contract
min charge. $659.88
9 reasons to choose an Exetel value-packed ADSL plan
Unlimited downloads
Life is too short to count your GB's. Our unlimited data plans give you the freedom you want at prices you'll love.
30 Free email addresses
That's a lot of email addresses. More than enough to cover everyone in your household. If you're a club or association you've got enough to cover the email addresses of your members.
Optimised for streaming
We optimise the performance of video streaming services to ensure you get the best possible viewing experience.
Flexible contract terms
Choose between a 12 month contract or go month to month with no lock in!
Save by bundling your phone line
If you bundle your phone line and ADSL together with Exetel, you'll save $5/mth on your phone line rental cost compared to our standalone phone line rental of $30/mth.
No excess quota charge
With unlimited data you don't have to worry about excess usage charges, or your speed being shaped if you exceed your allowance.
nbn™ Ready Broadband
Your ADSL2+ service is nbn™ ready! As soon as the nbn™ becomes available at your place, you can upgrade to nbn™ FREE of charge, with no termination, transfer or activation fees.
Join over 120,000 people
When you switch to Exetel you can be confident that you are joining over 120,000 Australians who have saved on their nbn™ and broadband with us.
Available subject to qualification
Plan inclusions, prices and promotional offers advertised may not be available at all addresses. The service qualification address check is only a preliminary result of plans and prices available in your area. Please note that the result may vary, together with plans, prices and promotions available at your address, as we process your order and connection.
About nbn™ ready
When nbn™ is available at your address, you can upgrade within your contract period to any Exetel nbn™ plan available on the website without incurring an early termination fee. If you elect to upgrade to Exetel nbn™ plan your broadband activation fee is free. You need to purchase a nbn™ ready modem if you don't have one. If you purchase a 12-month nbn™ plan you can choose to add a free nbn™ modem. A shipping fee of $20 applies.
About FREE activation
Where advertised as free, the Exetel broadband plan activation fee only is free. Depending on the service ordered, there may be additional up-front charges which are not free and will be charged as per our Terms of Use. These charges include, but are not limited to, charges such as Phone Line Activation Fee or Copper Line Installation Charges, Lead-in or Additional Cabling, Equipment Charges such as Modems, Routers or Splitters, Missed Appointment Fees or any complex on site work required to provide a functional broadband service.
Free month(s) offer
If you order a No Lock-in ADSL2+ bundle plan, the first month broadband and phone bundle monthly plan fee only is free. If ordering a 12-month plan, the first two full-months bundle plan fee only is free. Your free month(s) will be applied as a credit to your account on your first (and second) invoices. Call charges and excess usage charges will still apply. Promotion is for a limited time only.
The bonus month(s) free on a Saver 4G mobile plan offer is only available when ordered together with your Exetel ADSL broadband bundle service. If ordering a 12-month ADSL broadband bundle you can choose to add an Exetel Saver 4G mobile plan on a 12-month contract where the first full 2 months plan fee are free. Or if you choose to order a month-to-month ADSL broadband bundle you can also choose to add the Exetel Saver 4G mobile plan on a 12-month contract where the first full-month plan fee is free. Regardless of the plan chosen you will be charged a pro-rated fee for first partial month from activation to the end of the first billing cycle. Your free month(s) will be applied as a credit to your account. Excess and international call charges and any excess usage charges will still apply. Learn more about our Saver 4G mobile plan.
Pay-As-You-Go call rates
Your broadband service comes bundled with a PSTN phone line on either the Optus or Telstra networks depending on your address.
| | |
| --- | --- |
| Untimed Local Calls: | 20c/call |
| National Calls: | 15c/min + 35c/call |
| Calls to Australian mobiles: | 35c/min + 35c/call |
| Untimed 13/1300 Calls: | 30c/call |
| International Calls: | Billed per second. Rates vary by network supplier |
| | Call rates: Telstra network |
| | Call rates: Optus network |
Payment information
A payment verification charge of $1 will be debited to your account at the time of sale. This will be credited back to you on your first invoice. You can also organise to pay by Direct Debit to avoid the 1% Credit Card surcharge.
Modem shipping costs
To ensure the optimum performance of your service, and to allow Exetel to deliver full technical support we recommend purchasing our ZTE ZXHN H268A modem when you order your service. A $20 shipping charge applies to all modems, whether or not the modem is supplied free as part of the broadband plan or ordered separately.